Blog
5 Popular Cosmetic Dental Treatments
The Dental Board of Australia does not allow dentists to use the term "cosmetic dentistry" or "cosmetic dentists", and we struggle to comprehend their reason(s) for this. Everyone in the community understands the basic concept that many patients want to improve their smile, to have straighter and whiter teeth and the dentist will give treatment options for so called cosmetic procedures. We also understand that there is no such entity as a specialist in cosmetic dentistry as every dentist should be adequately trained but this does not mean that every dentist is experienced in these procedures.
So, if you're looking for "cosmetic dentistry Melbourne", the dentists at Coburg Dental Group are very experienced in providing all the various types of treatment which may be required to enhance your smile.
So how can we achieve a beautiful smile?
1. Tooth whitening is the most popular treatment which we provide to improve the colour of the teeth.  We can do this in the chair over a 2-hour appointment using the world acclaimed Zoom ® tooth whitening system or we can make a customized tray system using the Colgate Optic White® at-home whitening method. (Unfortunately, this has the same name as the Colgate® toothpaste but it is a totally different product)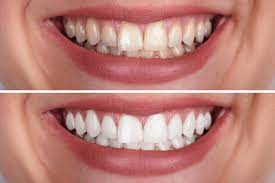 Tooth whitening is a very effective way to lighten your teeth but results can vary from one person to the next.
2. Veneers which are covers placed over the front of the teeth can be made out of a plastic-ceramic filling-type material or as a stronger version, out of pure ceramic which has physical properties similar to enamel.  Veneers are used to permantly change the colour, shape and size of teeth and can also be used to "fill-in" gaps between the teeth.
3. Crowns and bridges are all-ceramic teeth which cover or replace teeth.  They achieve the same aesthetic result as veneers with the added benefit of being a much stronger restoration which is required in some situations.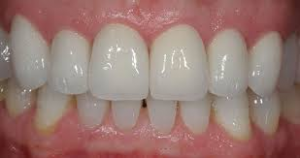 Crowns, bridges and veneers look very similar
4. Orthodontics is usually the best way to treat crowded or mis-aligned teeth.  It is suitable treatment for patients with healthy teeth and there can be several treatment choices depending on the issues and the likely treatment outcome. The different modalities of orthodontic treatment include making a removable plate, metal braces, clear or tooth-coloured braces or using aligners such as Invisalign®. Dr Matthew Siebel at Coburg Dental Group has many years of orthodontic experience and will advise what is best for your situation.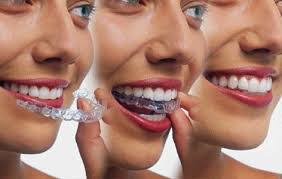 Clear aligner treatments such as Invisalign® have become very popular
5. Implants are an ideal way to replace one or more missing teeth. Implants look like a screw or bolt which replace the root of a tooth to enable a crown or false tooth to be permanently fixed.  Implant supported teeth have an excellent long-term prognosis.
Implants are an ideal way to replace missing teeth
Our clinic is open 7 days a week (closed on public holidays) so if would like to make an appointment for a free smile makeover consultation, please call (03) 9386 1805 and quote Blog Offer 0322 when you make the appointment.
Any surgical or invasive procedure carries risks. Before proceeding, you should seek a second opinion from an appropriately qualified health practitioner.