The Benefits of Visiting a Dental Hygienist in Coburg

Preventative measures are a key factor in maintaining optimum oral health. The first step in prevention is the one you take at home, with your own oral hygiene routine. But to keep plaque build-up and decay in check, a visit to the Dental Hygienist is strongly recommended.
What is a Dental Hygienist?
A Dental Hygienist is a specially trained and skilled dental auxiliary who focuses specifically on prevention. Working together with your dentist, they provide fully integrated dental care.
The Dental Hygienist essentially provides a deep clean for your teeth and gums.
Specialised equipment allows them to remove deposits from your teeth, as well as cleaning and polishing. The dental hygienist also works in an educational capacity, teaching patients the benefits of maintaining sound dental hygiene.
Time with a dental hygienist allows them to look over the structure and condition of your teeth and customise their advice according to your needs.
Dental complications can almost always be avoided if conditions are treated early. Dental hygienists prevent situations which may otherwise result in time consuming, extensive and expensive treatment.
An appointment with a hygienist can be made with your routine dental check-ups. This will ensure there are no stains or plaque deposits concealing tooth decay or causing gum disease.  Poor oral health can cause bad breath, tooth decay, cavities and gum disease. But it is not always possible to identify the cause of these conditions without a professional opinion.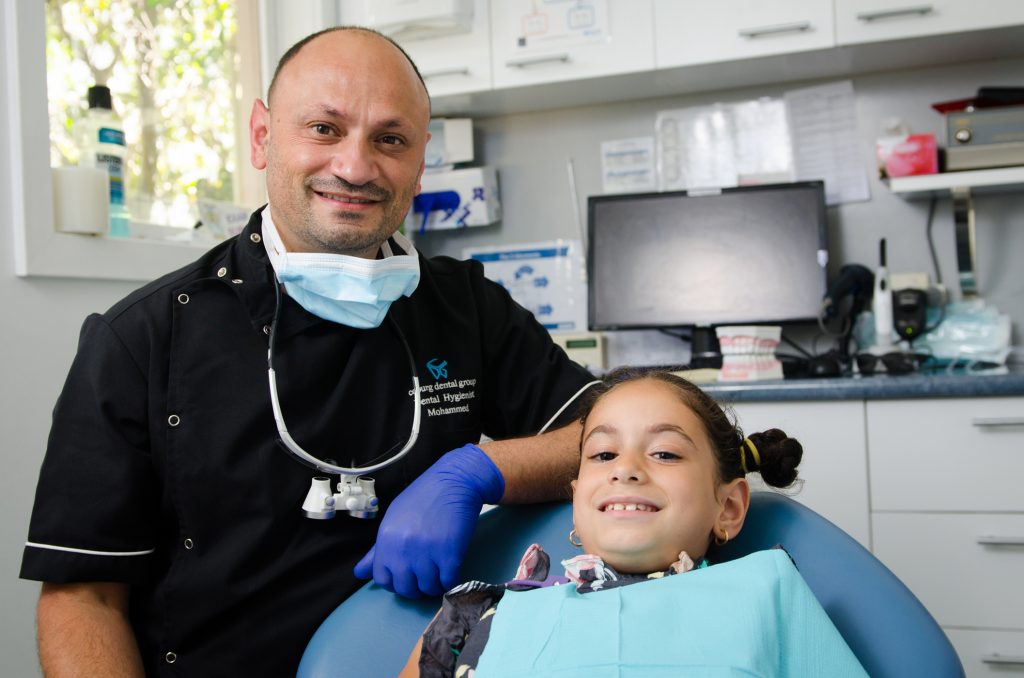 Preventive Dental Treatment for all Ages
Dental disease occurs at any age, therefore treatment and advice from a Dental Hygienist will benefit all. It is important that everyone establishes correct home care techniques, and we are here to help. The Coburg Dental Group is dedicated to the service and education of patients in North Melbourne and beyond.  Our friendly, professional team can explain how dental disease including tooth wear occurs, and how it can be prevented.
For many children, the application of dental fissure sealants to the grooves of the back teeth will prevent decay for life. If you have concerns around your child's teeth, our 
pediatric dental therapists
 can help.
Many elderly patients don't realise the impact that changes to general health and medications can have a direct impact on the oral health of a person. A dental hygienist will factor these things in during their assessment of your oral health needs.
What is the Hygienist's role in the dental practice?
Hygienists perform four main functions:
Dental Hygiene Education – tailored exactly to your needs. This one-on-one instruction includes care for your gums and teeth, and information on dietary habits and health conditions which may be adversely affecting your oral health.
Collaboration with your dentist – we plan an oral health maintenance program, including assessment of your periodontal (gum) health, evaluation of radiographs and a review of your medical history.
Removal of calculus deposits (tartar) and stains from your teeth.
Application of decay preventing agents and recommendation of products for home use.
Why is home dental care so important?
Dental disease can be prevented. Effective home plaque control techniques help to prevent gum disease and tooth decay. Such problems are then less likely to progress into more serious dental ailments resulting in extensive and costly dental treatment.
Generally, dental hygiene treatment is pain free. If you find treatment uncomfortable it is important that you discuss with your Dental Hygienist. Various techniques are available to help.
Any preventive care will ultimately lead to savings. Depending on the type of treatment carried out and the length of the appointment, costs may vary. It is important to agree to and confirm the cost of the visit before the Dental Hygienist begins treatment.
Why doesn't the dentist do the work?
The Dental Hygienist has been specially trained to perform preventive treatment and maintenance of the mouth, teeth, and gums. Your dentist will refer you to a Dental Hygienist for more specialised oral care, while they provide complex restorative and cosmetic care.
With individually taught home care techniques and regular maintenance, your Dental Hygienist can assist you to maintain positive oral health for the rest of your life.  
If you're looking for dental hygiene services in North Melbourne areas including Coburg, Northcote or Brunswick, get in touch today. Coburg Dental Group are professional, friendly, and ready to take your call.
Any surgical or invasive procedure carries risks. Before proceeding, you should seek a second opinion from an appropriately qualified health practitioner.