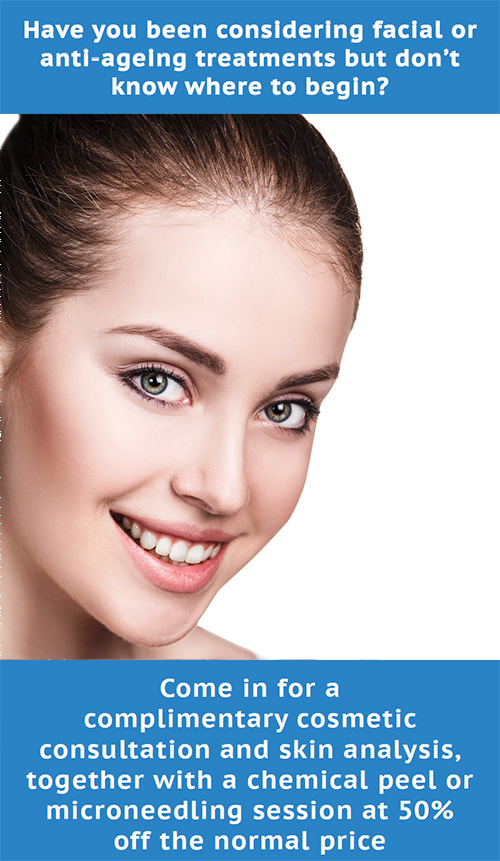 Package Deal 1
Consultation – Valued at $75.00
Skin Analysis – Valued at $50.00
Mircroneedling – Valued at $430.00
(which includes Skin Care RX Hyrafix
– subsequent treatments $350.00)
Total Value – $555.00
February Special – $215.00
What Is Microneedling?
Microneedling is a procedure used to rejuvenate and resurface the skin of the face.
It can be used to treat fine lines and wrinkles, uneven skin tone and texture, acne scarring, enlarged pores and restore skin tightness.
As the name suggests, micro needles are used to create tiny wounds in the surface of the skin. In response, as part of the natural healing process, production of collagen and elastin in the skin is increased, as well as the proliferation of skin cells. This results in the skin becoming stronger and thicker, appearing smoother and more luminous.
Benefits of Microneedling
Microneedling allows the penetration of beneficial ingredients into the skin during the procedure
The benefits of treatment are long lasting. In fact, the benefits of 3-6 sessions of microneedling usually lasts 2 years, approximately.
The healing phase is short and within 3 days the skin has almost returned to normal.
Topical anesthetic is used to make the procedure comfortable. There is very little discomfort post treatment.
It is much cheaper than laser resurfacing.
It can be performed on people who have had laser resurfacing or have thin skin.
Complications such as hyperpigmentation occur much less frequently compared with laser treatment.
This treatment can be used in conjunction with other rejuvenation therapies such as chemical peels
Package Deal 2
Consultation – Valued at $75.00
Skin Analysis – Valued at $50.00
Chemical Face Peel – Valued at $99.00
Total Value – $205.00
February Special – $49.50
What is a Chemical Peel?
Chemical peels are designed to improve the texture of the skin by removing its damaged outer layers. They can rejuvenate, resurface and hydrate the skin.
Peels can be used to treat many skin concerns including: dry skin; fine lines; hyperpigmentation; photo damage and acne. There are several different types of peels including Alpha hydroxy acid (AHA) peels, such as Lactic and Glycolic acid peels; Beta hydroxy acid (BHA) peels, such as Salicylic acid peels; and combination peels such as the Jessner peel. The improvements in the skin from peels may be subtle at first. Initially the skin will have a healthier glow. Maximum effect is usually noticed two weeks after a peel but optimum results are achieved after 6 peels, performed every 3-6 weeks.
What is involved with a skin analysis?
It is a professional photographic skin analysis which will give a report on overall skin condition and supply a Dermal Age compared with your chronological age.
Value packages available 29th January to 28th February and subject to appointment availability. Skin analysis is only available for appointments booked Tuesday 29th January 2019, Thursday 7th February, Thursday 14th February, Thursday 21st February.